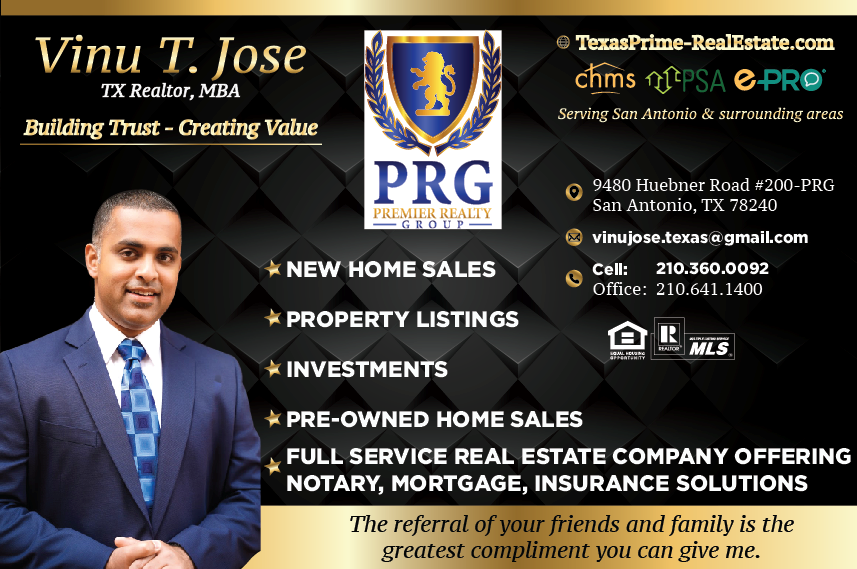 Serving the City of San Antonio & surrounding areas

Certification - Pricing Strategy Advisor, Certified Home Marketing Specialist, e-PRO
Core Specialty – Listings / New Home Sales / First time home buyers / Investments & Leasing

San Antonio in Texas is culturally diverse, rapidly growing and has some amazing tourist attractions. Vinu can help make your home ownership dream in this wonderful city……..A Reality.
With prior business development experience in the Information Technology and Small Business sector, he ventured into Real Estate to better utilize his skills in client servicing and marketing to assist clients by "Building Trust & Creating Value". He focusses on transparency, prompt communication and objective analysis with special emphasis on Pricing, Financing and Taxation. A systematic, process oriented approach with a human touch form the essential core of his services.
Vinu is proud to be part of San Antonio's Amazing Growth and understands the unique cultural dynamics that attract migrants from all over. With strong ties to the local community, he can guide with faster transition into life here. For transactions, he has developed partnerships with vendors that help improve the overall experience by building tremendous value.
In 7 years as a professional Realtor, Vinu has assisted a diverse set of clients. His specialty areas are - NEW HOME Construction, Property Listings and Investments. He completed his MBA and is a designated Certified Home Marketing Specialist (CHMS), Pricing Strategy Advisor (PSA) and e-PRO. In 2018, he was the recipient of the Bronze Award at his previous brokerage Keller Williams Realty and recently he received the Top Producer award for 2020 at Premier Realty Group. He is grateful to everyone for the confidence placed in him.
For Vinu - SUCCESS = PROGRESS & HAPPINESS. Life has to be Purposeful & Meaningful. Self-Development & Creative pursuits are an integral part of his life. Hobbies include reading, singing and travel exploration.
What you get
A consultant to educate and guide you in taking the correct decisions. If needed, I will connect you with the appropriate credible resource to get you the answers you need.

A flexible approach, customized to suit your needs

Elaborate due diligence to overcome any potential red flags and identify reasonable pricing

Strong negotiation to ensure more value for your hard earned money

Awareness of the city of San Antonio, especially areas with future growth and potential for appreciation

A long term go-to source for your real estate needs.

A Full Service Real Estate company assisting you in finding real estate, mortgage, property insurance solutions and credit repair assistance if need be
Let's Connect.........