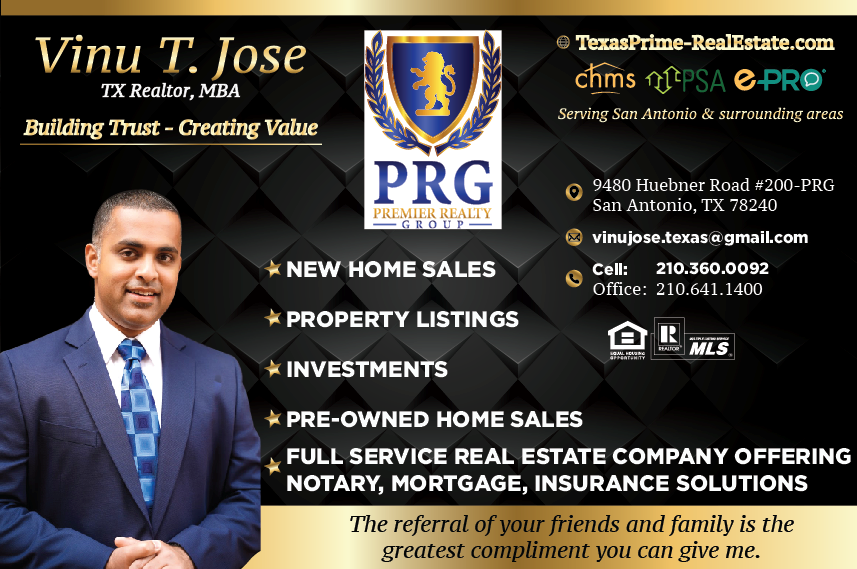 Serving the City of San Antonio & surrounding areas
Thank you for choosing my services. I would be glad to assist you with your real estate needs!

Certification - Pricing Strategy Advisor, Certified Home Marketing Specialist, e-PRO
Core Specialty – Listings / New Home Sales / First time home buyers / Investments & Leasing

In my 6 years as a professional realtor, I have worked with a diverse set of buyers, sellers, and investors in the San Antonio market and helped them achieve their real estate goals while "Building Trust & Creating Value" in the process. I was involved with the commercial retail business prior to venturing into residential real estate in 2017. As of Dec 2019, I have closed on 7 MILLION USD approx in real estate transactions, thanks to the trust instilled in me by my clients. When you choose to invest in real estate, my job is to be objective about the facts and put the numbers in the right perspective. Financing, Pricing, and Taxation are the keys to understanding Real Estate.

What you get
A consultant to educate and guide you in taking the correct decisions. If needed, I will connect you with the appropriate credible resource to get you the answers you need.

A flexible approach, customized to suit your needs

Elaborate due diligence to overcome any potential red flags and identify reasonable pricing

Strong negotiation to ensure more value for your hard earned money

Awareness of the city of San Antonio, especially areas with future growth and potential for appreciation

A long term go-to source for your real estate needs.

A Full Service Real Estate company assisting you in finding real estate, mortgage, property insurance solutions and credit repair assistance if need be
Professional Experience
Before commencing my real estate business, I spent 10 years in marketing and client services within the Information technology, healthcare and Commercial Retail sector. Although having the right systems and processes is essential for business success, respecting customers and putting their needs first lies at the heart of my services. My past association with Keller Williams Realty helped imbibe the below values while servicing my clients -

WIN-WIN: or no deal
INTEGRITY: do the right thing
CUSTOMERS: always come first
COMMITMENT: in all things
COMMUNICATION: seek first to understand
CREATIVITY: ideas before results
TEAMWORK: together everyone achieves more
TRUST: starts with honesty
SUCCESS: results through people

Personal
Philosophy of Life - SUCCESS = PROGRESS & HAPPINESS.
Life is Short, hence, should be Purposeful & Meaningful. Self Development & Creative pursuits are an integral part of my life. Hobbies - love reading and singing, travel and exploration, playing cricket. My latest interest is in capturing travel vlogs to project San Antonio as a Destination City. Life is also about giving back through charitable activities. As a principle, a significant portion of my earnings is dedicated to help the needy. Blessings matter.